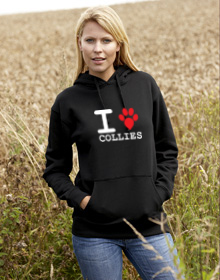 Our iron on "I Love my <Dog Breed>" features some bold text and a paw shaped heart. The paw shaped iron on heart will come as a separate transfer to the rest of the words allowing you place your paw heart wherever you want on the t-shirt, pillow, dog coat or any other suitable surface.
Each iron on design is made individually and dispatched within 24 hours on weekdays. The size of the transfer will be 200mm in width, and will fit perfectly on the front of a standard t-shirt (along the chest area).
Each design can be ordered in our full range of colours with only the heart staying the same red colour.
We have included nearly 50 of the top dog breeds, but if you have a suggestion please contact us - either by our live chat feature or the contact form which is here.
What will I receive?
You will your word transfer (the letter I and your chosen dog breed) on 1 transfer in the colour you have selected, and also a seperate dog paw iron on transfer in red.
Do I Iron them on together?
For best results please iron the worded transfer on first, then after removing the plastic backing, iron on the heart. Please see our how to guide for more instructions - here