TeeTransfers Iron on word builder
Description
Specification
Special Offers
Letter transfers are great for making your amazing designs. Available in 3 different sizes and an array of different colours.
Buying individual letters means you can create unique names and wording for a fraction of the cost of getting a company to do this for you.
Remember you can iron on this transfer using a standard iron!
Sizing
To illustrate the sizing of the letters we ensure that your text sizes match, so if you order the following to spell the name David
The capital
D
will be the chosen size ie.
5cm high
, with the following lowercase letters being proportional in size. Please see the diagram below as an example:

If however you do not want the capital letters, the sizing will be exactly the same as the illustration below:

If you have any questions please do not hesitate to
contact us
How will my Transfers Arrive?

Transfers ordered from TeeTransfers.co.uk will arrive in a mailing bag through your
letterbox. However if you have ordered more than 500 transfers we will send via courier.

Transfers will either be in singles or on a small sheet of plastic carrier backing which can be cut using a pair of scissors.

Do I peel the transfers and stick on.. what do i do?

Each transfer will be on a CLEAR plastic backing which is called the "carrier, and will be made "back to front". This is so you can place the transfers onto the garments and arrange in anyway you wish. You do not peel the transfer off, you just pop it where you want it, iron it, and peel the plastic carrier off.

You WILL receive instructions on how to apply the transfers.

Can iron the transfer once its been put on my tshirt?

Please iron on the reverse of the garment (ie. Turn the tshirt inside out)

Do your transfers peel or crack?

No, our transfers will stretch with the garment. Some of the "CHEAPER" transfers offered on DIFFERENT websites are "printed" which will usually result in cracks. But ours do not crack!

Can I multI-layer the transfers?

First let me explain this.. multi layering is placing one transfer on top of another. To do this, you must apply 1 transfer at a time, iron on, leave to cool, peel off the carrier (plastic film), and then repeat with the next transfer.
GOLD, SILVER AND VIBRANT PINK CAN NOT BE MULTI LAYERED
Do you make custom transfers?

Yes, please contact us with your requirements.
Can I wash my garment once the iron letters have been applied?
Yes of coarse, you can wash your garments up to 40 degrees. Please do not tumble dry.

What can i put the transfers on?

Firstly see our transfer suitability page to ensure that the material your going to putting your transfers onto is suitable. But below are a list of items that you can use our transfers on:
T-Shirts
Long Sleeve T-Shirts
Bibs
Hoodies
Workshirts
Reflective Jackets
Aprons
Bags
Caps
Jumpers
Pillow Cases
Baby Grows
You get the idea!
Can I remove the transfers once I have ironed them on?
If applied correctly the transfers will not be able to be removed.
Will you buy me a new T-Shirt if i mess up?
Unfortunately not. We use our transfers every day so we know they work. Please take care in applying your transfers, as they are fairly permanent and we are unable to offer any form of compensation for damage. Please see our terms and conditions - here.
Can i send you my T-Shirt for you to iron on the transfers?
We do not offer this service...yet.
My Transfers have arrived in the wrong order, do I send them back?
To keep costs at a minimum we may arrange your transfers in a different order. If the transfers arrive like this, you just need to cut the letters out using normal scissors (you dont need to cut round the letters, just a square).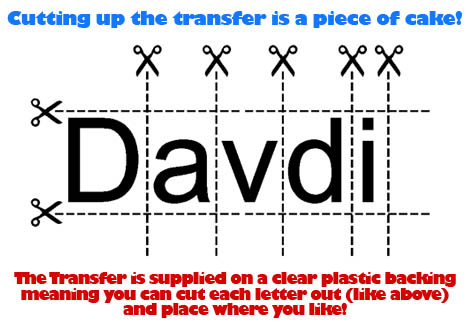 I have received my order, but the colour is different to previous orders - What do I do?
Sometimes suppliers have a slight colour shift, however, it is very rare. If you have received transfers to this effect, please contact us either using the live chat or contact form and we will try to sort out your problem.